Welcome
Enjoy a Lobster Bake on your turf, we'll bring the surf!
My husband Paul has been a lobsterman for 32 years. Our boat "The Snowbird" is out on the water 6 days a week. She has worked hard and never complained. Our lobsters are caught daily as well as our hand dug clams. Add some homemade blueberry cake, potato salad and sweet corn. Put that all together and you have, "The Great Taste of Maine!"
The Great Taste Of Maine!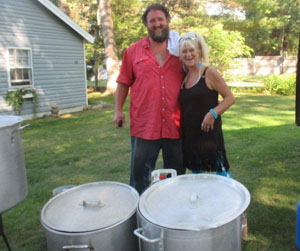 Over the past 19 years of being in business, we can honestly say that our lobster bakes have been truly wonderful. Happiness and delicious food is what we bring to you so that you may experience your, "Taste of Maine with Cathy's Lobster Bake!"
We hope you will book a lobster bake with us so that you and yours can experience this for yourself.
We Serve It Straight From The Ocean!
Let your site be our site to prepare, while we cook and serve the freshest Maine seafood around!
It's all up to you!